Samsung window display 3D renderings
At nofuss we don't only visualize architectural design projects. From time to time our clients also ask us to render their product designs in 3D. These Samsung window display visualizations were created for VitrineMedia in Paris, France. VitrineMedia is a company in the business of corporate window display refurbishment. Therefore, their clients include real estate, tourism and other types of agencies that use window screens to present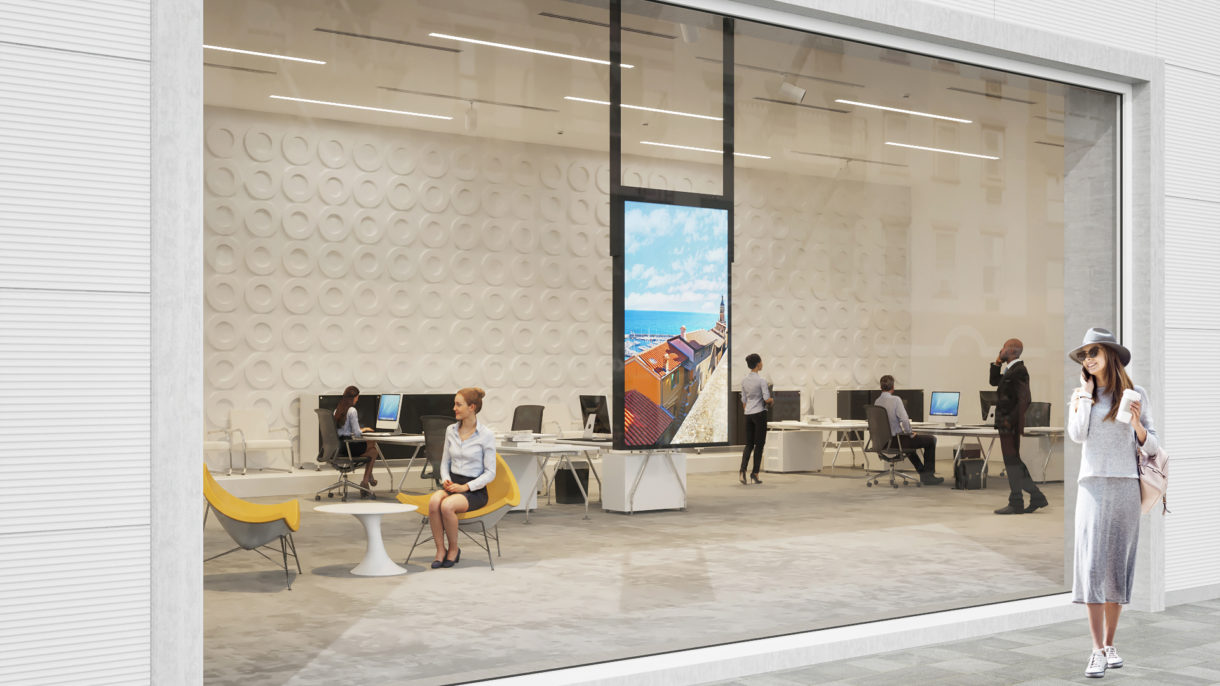 Our mission in this visualization project
The goal of this project was to present different possible setups of this Samsung window display model. Since VitrineMedia proposes two types of mounts for this display – we presented both the standing and hanging mounts. With the single and double display options and the two different spaces we produced a total of 8 permutations of setups. Here we selected 6 versions out of this 3D rendering package. Moreover, the client's briefing didn't include any references for the spaces, so we composed two interior schemes out of our libraries.
The nofuss 3D rendering experience
Our 3D rendering experience allowed us to quickly come up with an efficient solution to this project. To present these Samsung window display screens we composed neutral, light and dark commercial interiors. Their program could be anything from an office of a sales agency to the lobby of an event or a cultural venue. This way the screens are integrated in contexts which aren't overly specific and don't distract from the products themselves.
Projects other than these Samsung window display visuals
These 3D visuals reflect well what we can do for your product integration assignments. This can be useful for both industrial and interior designers when showing close-up on their custom-made objects. However, we mainly specialize in office, retail, airport, and hospitality visualization. So, don't wait and get in touch with nofuss right now!