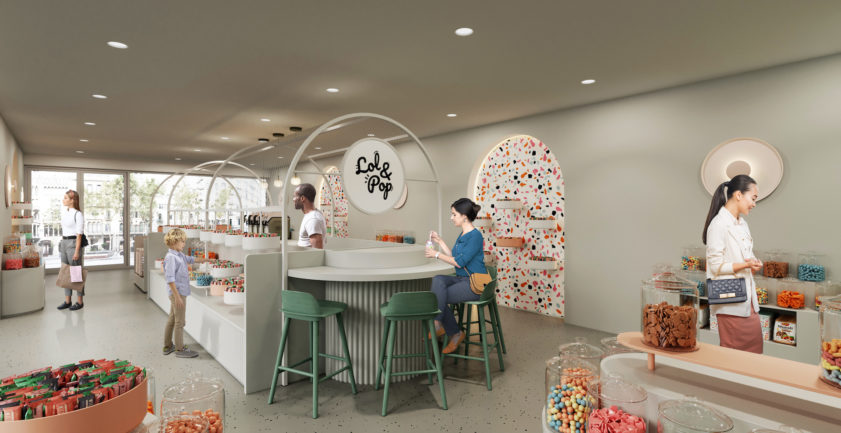 Candy store 3D visualization
We loved working on this tasty candy store 3D visualization project for our long-term clients – the Belgian studio Twodesigners! It was a promotional project destined for their online promotion and not for a pitch or a presentation. Therefore, there was time to come up with the right atmosphere and to figure out product and character placement. It is a bright, contemporary, and minimal space that really puts the various types of candy in the spotlight.
Tout est bon dans le bonbon
If you took away all the colored candies filling the jars, what remains would be quite bland and barren. This is because in this project the merchandise constitutes an integral part of the design scheme. For these candy store 3D renders, we proposed several merchandising versions to make sure we matched product references. On one hand, mostly monochrome candies in this pastel-colored space would look boring. On the other hand, acid-colored candies would detract too much attention away from the space. The products that we used present a perfect balance between an eye-catcher and a wallflower.
All about the people in this candy store 3D
The people that we integrated in these candy store 3D renderings fit the overall coloring scheme. Apart from that, they constitute a realistic representation of what the store's typical customers might look like. Since this design is projected in Belgium – they look and dress like northern Europeans. There are men and women, adults, some kids, and a worker behind the shop counter. If we did not include any children in this fun and colorful project – the story would be entirely different.
Other retail 3D visualizations
If you like these candy store 3Ds – keep browsing our website to discover more retail visualization projects. For example, take a look at these SPAR supermarket renders, these butcher shop renders or this gift shop 3D visualization.