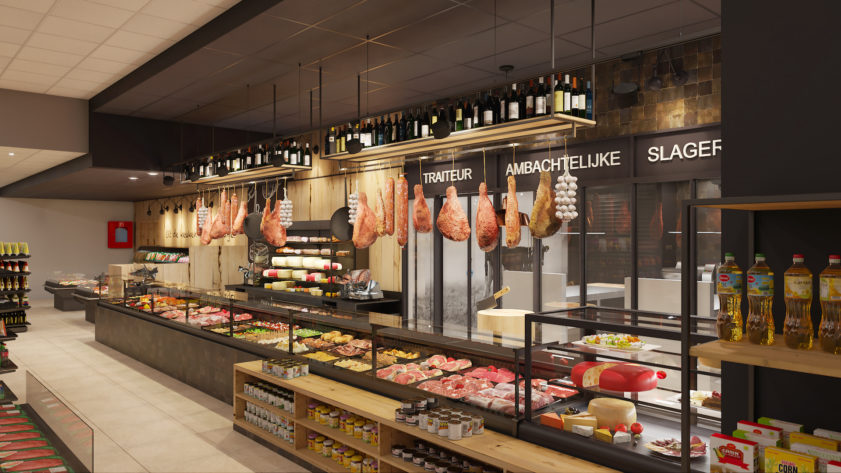 SPAR supermarket renders
We produced these SPAR supermarket renders for our oldest client – the Belgian refrigerated counter manufacturer Frigomil. Since we started working with them in 2016 we delivered hundreds of similar supermarket, butcher shop and bakery. Each of those projects consisted of multiple viewpoints resulting in a total of well over a thousand renders. Our nofuss agency is now their exclusive supplier of 3D visualization services.
Merch in retail 3D visualization
When working on retail 3D visualization merch plays a crucial role for the project owner. In these SPAR supermarket renders we paid a lot of attention to the layout of products on the shelves. The shelves of any retail space must usually be fully filled. You must place unpacked meat and products on the butcher's side and packed products on the client's side. Obviously, it is also very important to follow the zoning of the products (i.e. meats in the butcher section, milk and cheese in the dairy aisle etc.)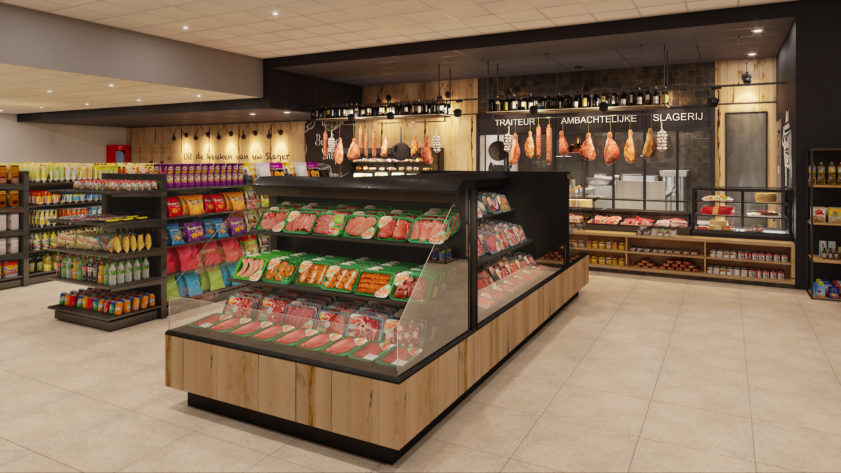 The importance of speed
Another issue that we want to stress is speed. We made these SPAR supermarket renders in just under 10 days. At nofuss we understand the tight timeframes under which our clients often have to work. When preparing a design pitch, they receive the briefing at the same time as the deadline, which is usually non-negotiable. From then on, they still need to work out their design and brief us for the 3D visuals. Therefore, we usually develop our renders in parallel with their design process.
Other retail renders
If you like these SPAR supermarket renders – feel free to check out some of our other retail projects. For example, see another butcher shop rendered in a different style, this concept store 3D rendering, or this shopping center rendering project.
Don't want to see more because what you saw already convinced you to start working with us? Then contact nofuss straight away and we'll discuss exactly how we can help you!