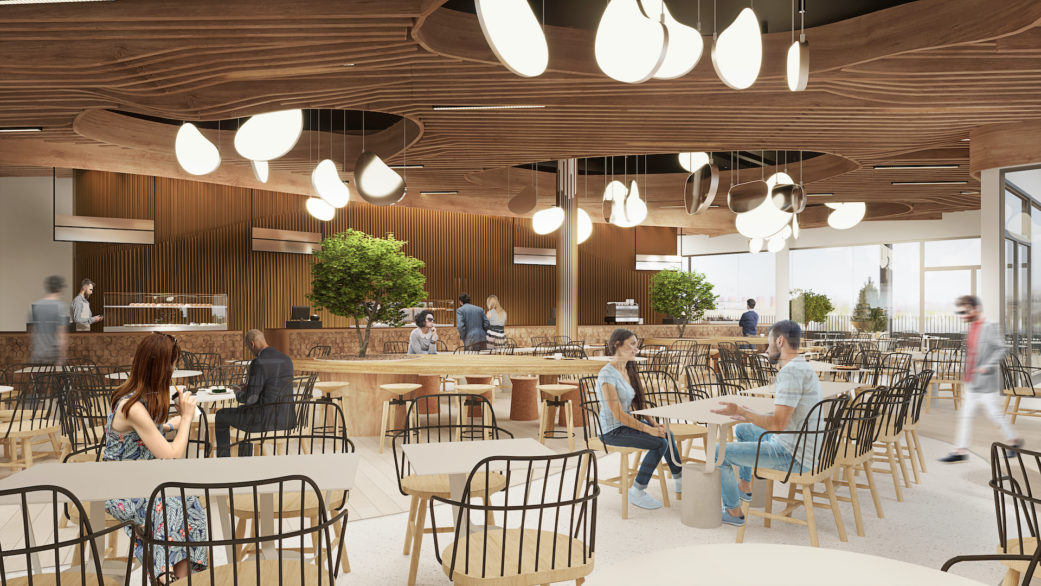 Coop food court
This is a food court 3D rendering project in a Coop shopping mall done in 2019 for our client CBA. Coop is a Swiss shopping mall chain with more than 2000 outlets around Europe.
They exist since 1969 and specialize in organic food retail distribution. The key space of this project is the food hall shared by vendors proposing various types of cuisine.
Obviously, the concept for the food court was also to create a fluid and organic interior design scheme. The curvy shapes in the floor, furniture and fixture arrangements, the ceiling shape are light and airy.
Moreover, the cloud-like suspended lights and mirrors add to the dominant feeling of floatation.
Different vendors rent parts of this space and share the seating area. In our visuals we set the tables with some potential options of cuisines such as pizza, sushi, bakery, and coffee.
The overall scheme is very warm and comforting thanks to an abundance of wood and white paint. The soft terrazzo adds to the coziness of these food court 3D renders.
Shopping mall renders
In this hallway view you can see the proposed interior design of this shopping mall. Fresh lime greens combined with anthracite greys and neutral white to compliment the greenery.
Real trees are planted in pots, integrated into the seating modules. In addition, you can see similar suspended round lighting elements above the atrium in the middle ground of this visual.
On either side of the corridor there are popular fashion brand's storefronts. A warm oak floor spans the entire space, except for the seating area which is finished in a darker wood.
Outside 3D renders
Sunshine dominates these food court 3D renders of the rooftop terrace adjacent to the food court. People densely fill them to show what it might be like on a warm sunny summer day.
The colorful outdoor furniture, integrated greenery and suspended textile canopies with floral patterns all add to the holiday feeling.
Like this food court project? Then see another amazing food court visualization project called Dusit Thani. Otherwise, check out this realistic 3D rendering lighting catalogue project.