Concept store 3D rendering
Back in 2018 we teamed up with the Antwerp based fashion agency Nightingale and produced this rendering project. HIXX is the main fashion store of the Luxembourg based retailer called Asport. The concept for their redesign of this store was to create 'a styleparc": a space where shoppers can easily locate any merchandise.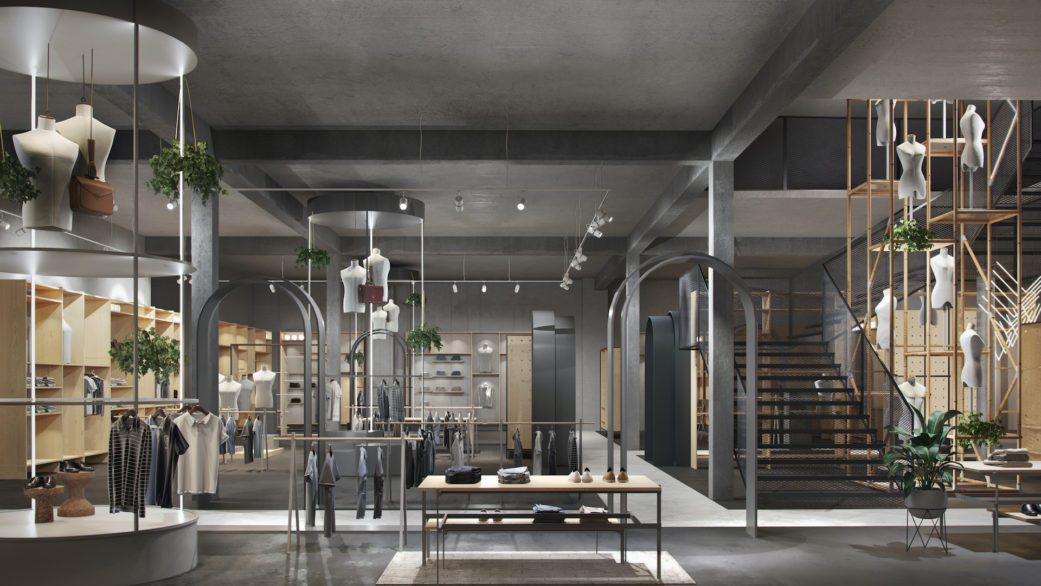 Concept store 3D rendering details
In these concept store 3D renderings the goal was to create a monochrome look by using a dark grey color palette and accentuated lighting. The designers' concept translates into every small detail of our visuals. Carefully selected materials such as polished concrete, stainless steel, mesh, plywood, and bamboo add to the overall elegance.
Three main colors – light grey, olive green and dark grey dominate this entire concept store 3D rendering project. They serve as visual guides helping the shoppers to find their way to each of the three product zones: women, men, and kids.
3D rendering atmosphere
Most often than not we densely fill our scenes with characters that inhabit them. There is the staff, the customers, as well as the passers-by. However, these concept store 3D renderings did not require the integration of people because that would distract us from the quiet beauty of this place.
In fact, these visuals present a rare case since they have been made after the project was already built. Usually our input comes during the earliest stages of a design project or even before it (such as a competition/pitch scenario). Nonetheless Nightingale wanted to use them on their website to promote their ideal vision of this space, regardless of any physical constraints. That is why we were free to imagine the interior spaces of the building exactly as we saw fit.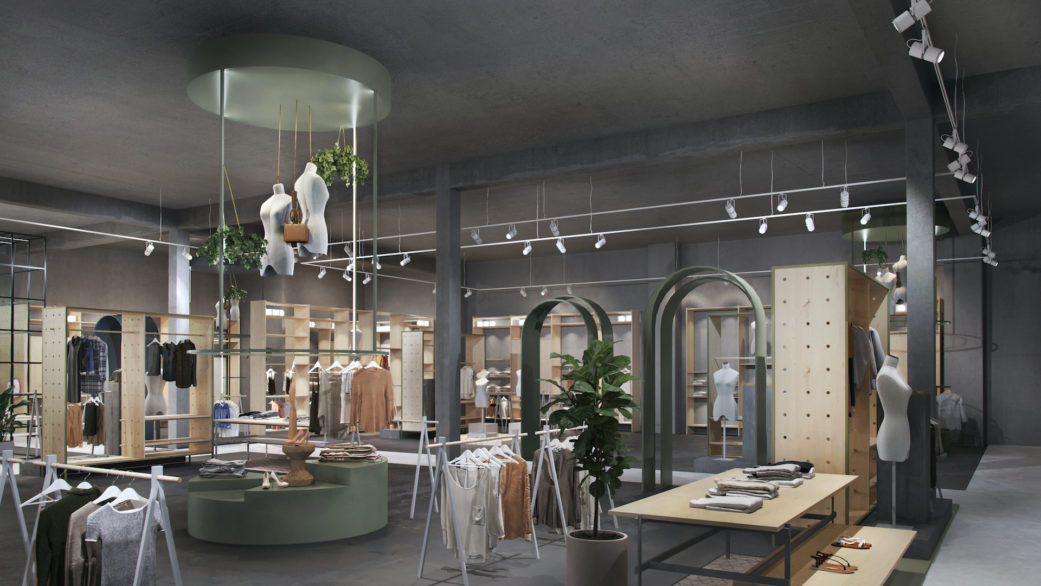 Flexible 3D rendering services
In conclusion we would like to say that these renders differ from most of our other work due to the client's wish to make them more conceptual than realistic. Since we provide a very flexible 3D visualization service, we do our best to please every client. We vary our rendering and post-production style to align the look and feel of our visuals to the desired outcome.
These concept store 3D renderings combine elegance and simplicity as well as modernity and style and we are very pleased with the result of this collaboration. See more retail rendering projects such as this shopping mall rendering or this foor court 3D rendering project.