Crowne Plaza Brussels Airport
Crowne Plaza Brussels Airport is a stylish, four-star hotel featuring a restaurant and bar, plus fully equipped meeting facilities. The excellent location of the hotel allows guests to reach it in just 5 minutes from the Brussels Airport.
Crowne Plaza is a multinational chain of full service, upscale hotels headquartered in the United Kingdom. It caters mostly to business travelers and the meetings and conventions market. It forms part of the InterContinental Hotels Group and operates more than 431 hotels in nearly 100 countries. The group's hotels are usually located in city centers, resorts, coastal towns or near major airports.
Belgian architecture firm Jaspers Eyers designed and supervised the construction of this hotel in 2003. Since then, the hotel restaurant underwent only light renovations, which eventually resulted in an outdated interior. Therefore, the hotel contacted our old client – the Belgian creative studio WeWantMore to redesign this space. WeWantMore in turn contacted nofuss to help them visualize this project in 3D. Since we specialize in hospitality 3D visualization, we immediately knew how we could assist them in this task.
Crowne Plaza Brussels restaurant
Crowne Plaza Brussels commissioned WeWantMore to do something completely fresh and new with this project. This is how the Craft Food bar concept was born. WeWantMore worked out the restaurant's interior design scheme, as well as the identity of the brand. Elements such as logos, graphics, and signage were all included in the design package.
The Craft food bar is an exceptional place to dine, socialize and relax. It is conveniently situated next to the Brussels ring and surrounded by the greenery of a park. Craft means cuisine, creativity, healthy food, skills, and quality Belgian products inspired by the international environment.
Design intent
What is usually the most enjoyable moment of a business trip? Probably it is the moment you sit down in a hotel just after landing or right before take-off. For instance, in a stylish hotel bar where people come to work, meet, drink, and obviously to have fun. Or in an elegant hotel restaurant with a welcoming atmosphere where you can eat, relax, and enjoy yourself. Creating such an enjoyable experience is exactly the goal of the new Craft food bar at Crowne Plaza Brussels Airport.
For Crowne Plaza it is all about creating inspiring and unforgettable experiences. That is why the client wanted to turn their restaurant into an attractive and remarkable space. A place where food and drink, socializing and business meetings mix like cocktail ingredients. Where you can easily arrange a personal or virtual gathering over a glass or two.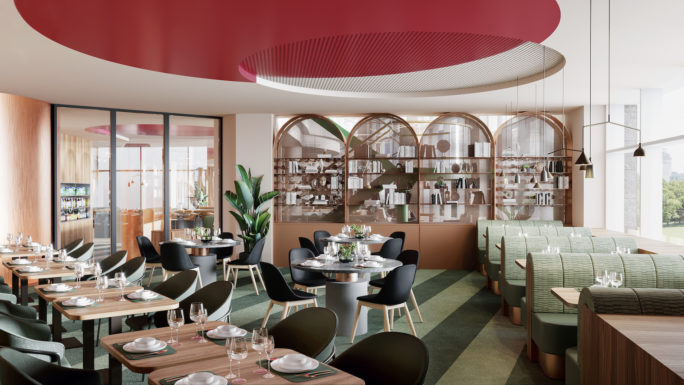 First approach
Crowne Plaza Brussels Airport is a place where tradition meets modernity. Inside of it is the Craft food bar with its retro-chic but at the same time contemporary design. At first glance, the elegant marble floor with green and white stripes attracts the eye and leads you on deeper into the scene. Every detail rivets your gaze in this space. For instance, the original metal staircase, preserved since the opening of this restaurant in 2003 as a tribute to the building's architecture. This first design approach with a diagonal floor also featured several options of the kitchen wall.
What's interesting about the Crowne Plaza Brussels project is that 3D visualizations were produced in parallel with the design process. Luckily, WeWantMore always provides very detailed design briefings which include SketchUp models of the spaces we need to visualize. How do we keep up with the timings of our clients' projects? We simply divide the project into production phases such as: base building architecture, furniture, lighting, materials, and post-production. Although the overall timing of this project was quite long, we did have a few sprint sessions in the process!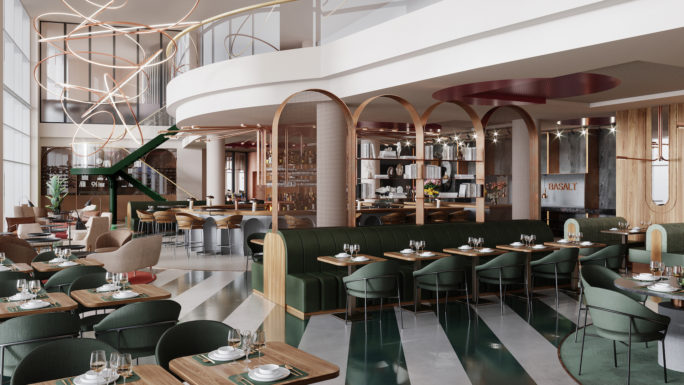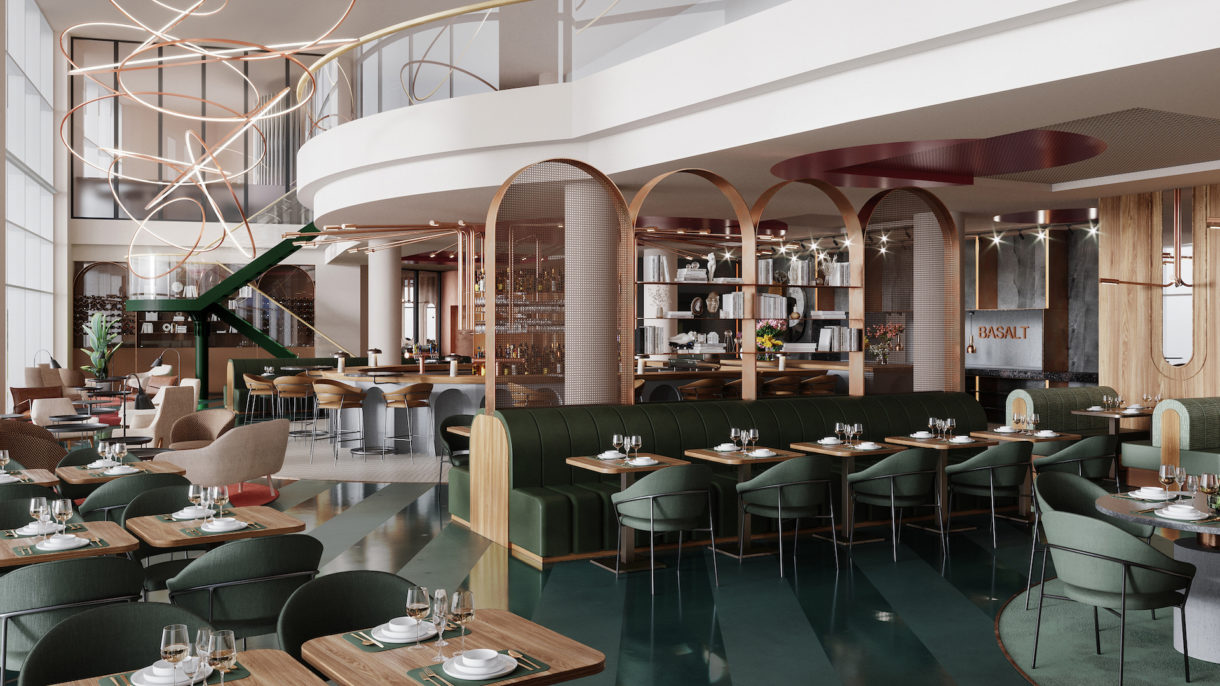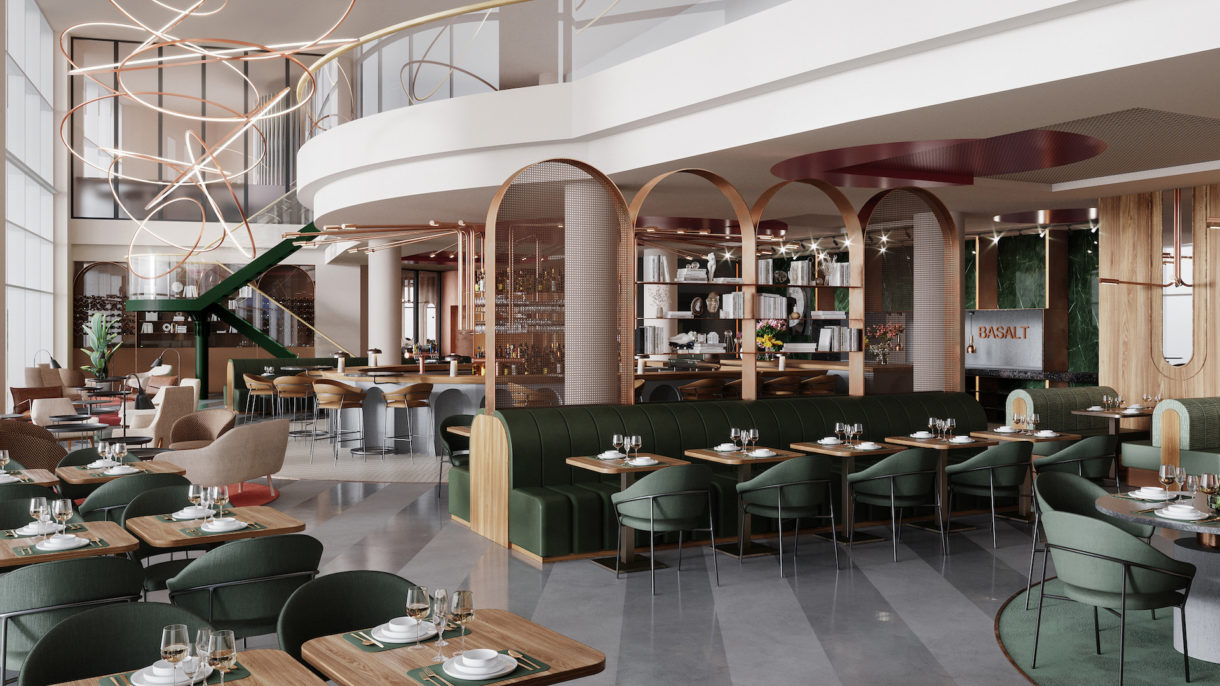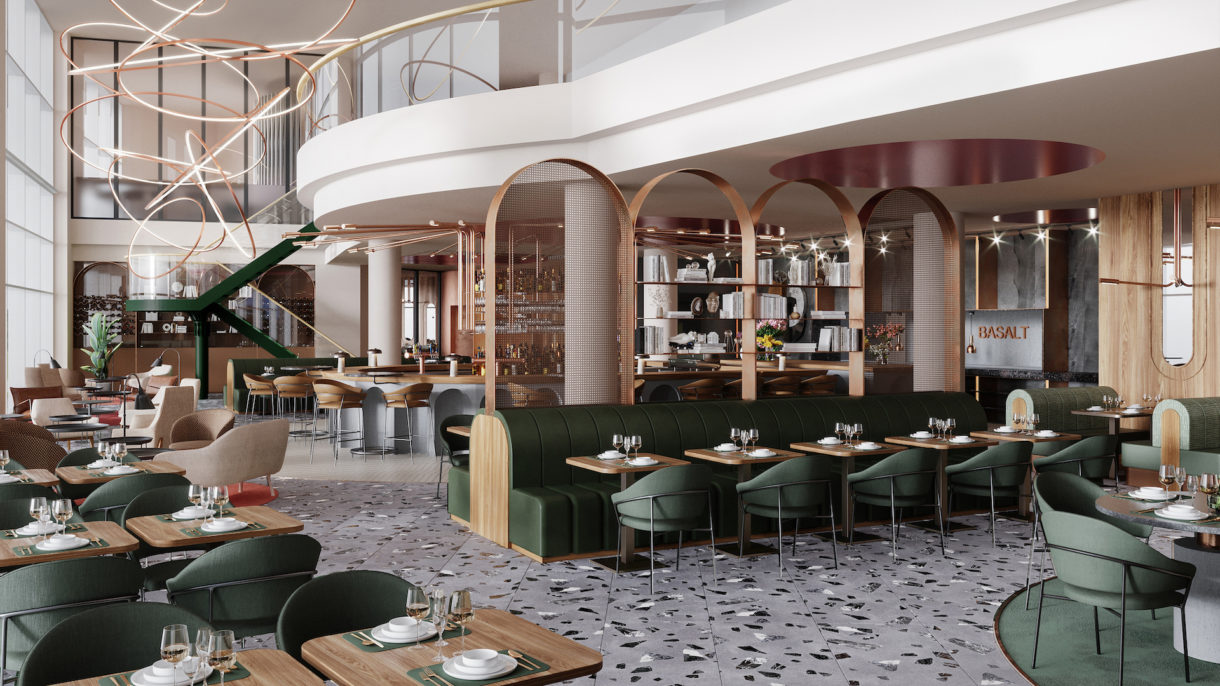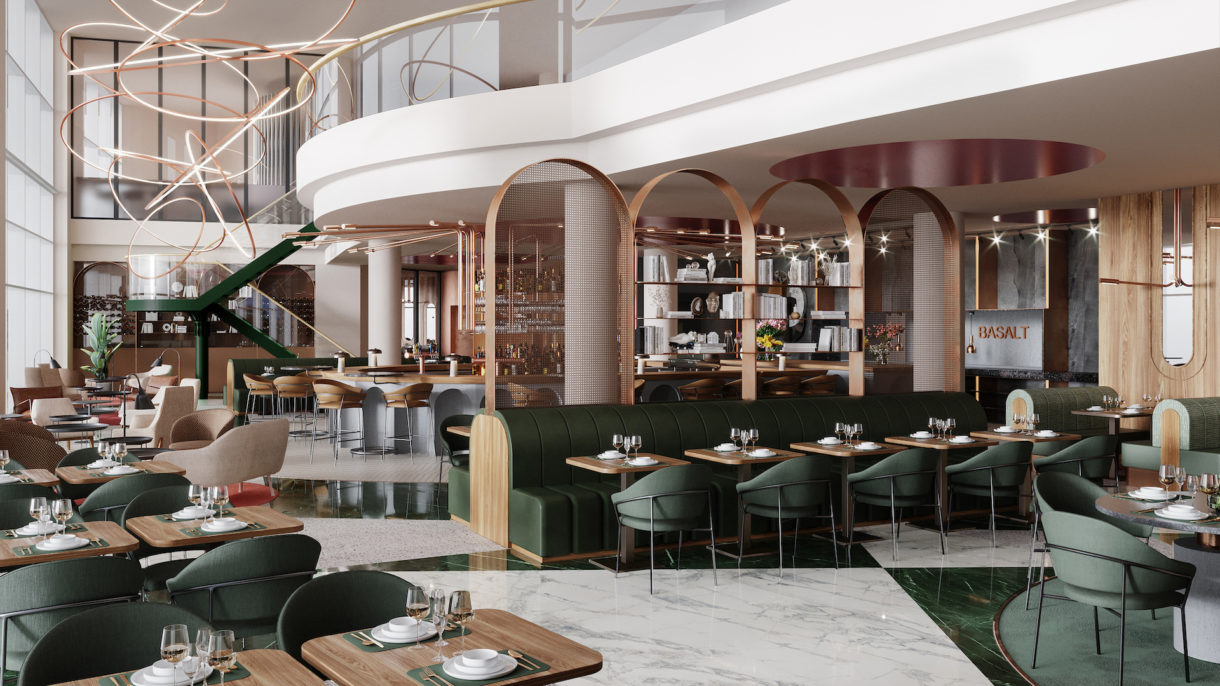 The iterations
For Crown Plaza Brussels Airport it was crucial to see a realistic representation of all the materials before starting the works. For six months we returned to this project adapting various textures to show the client what they would look like in reality. We made a total of four project phases including the various floor layouts you can see above. Each of the project's phases was designed and visualized in the shortest of timeframes.
Interestingly, for one of the views we even produced an ultra-HD version. It was rendered in 32K to be printed on the construction separator at the building site.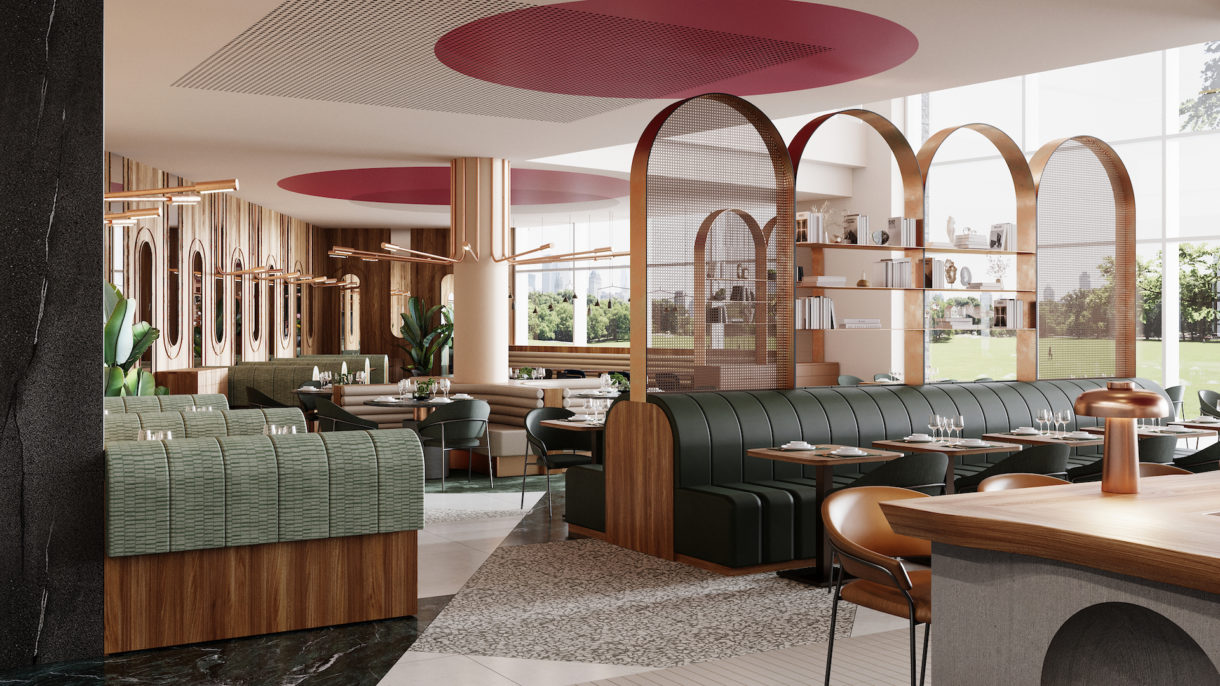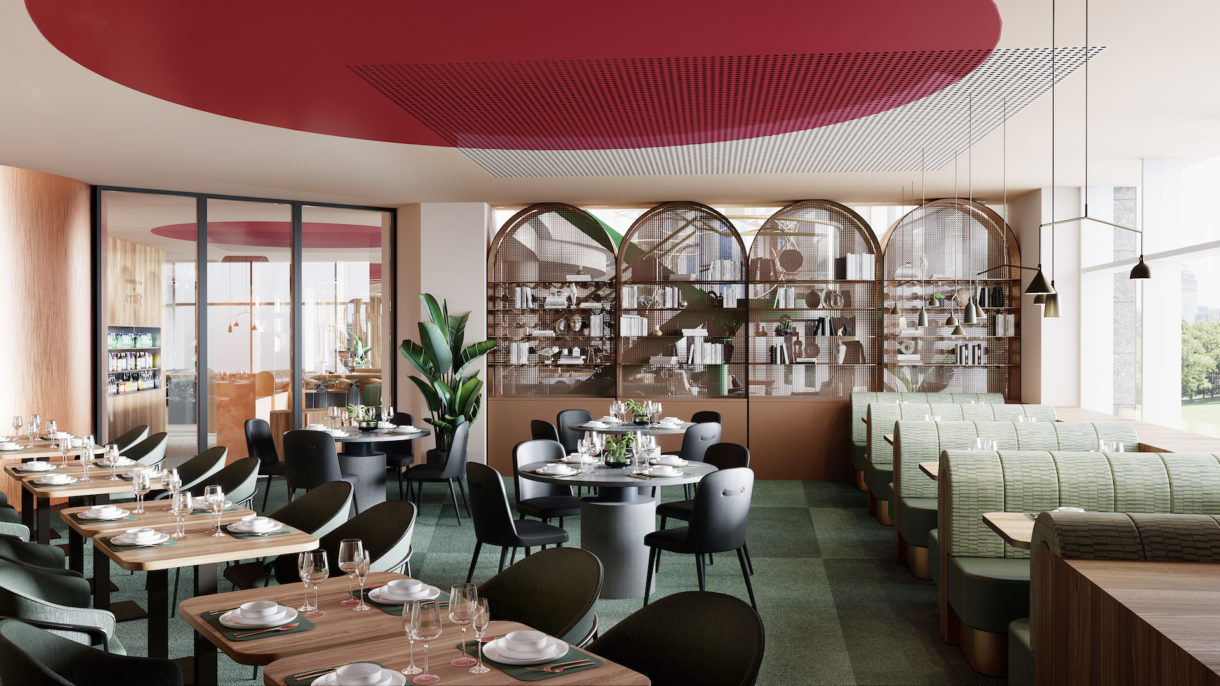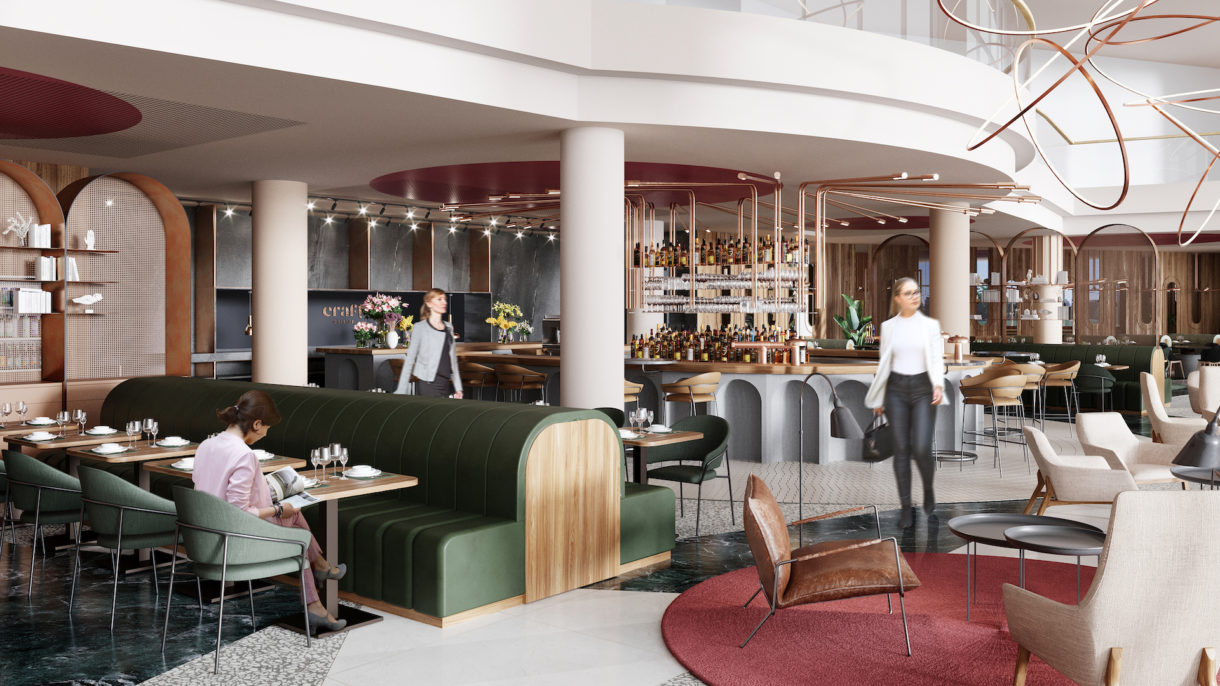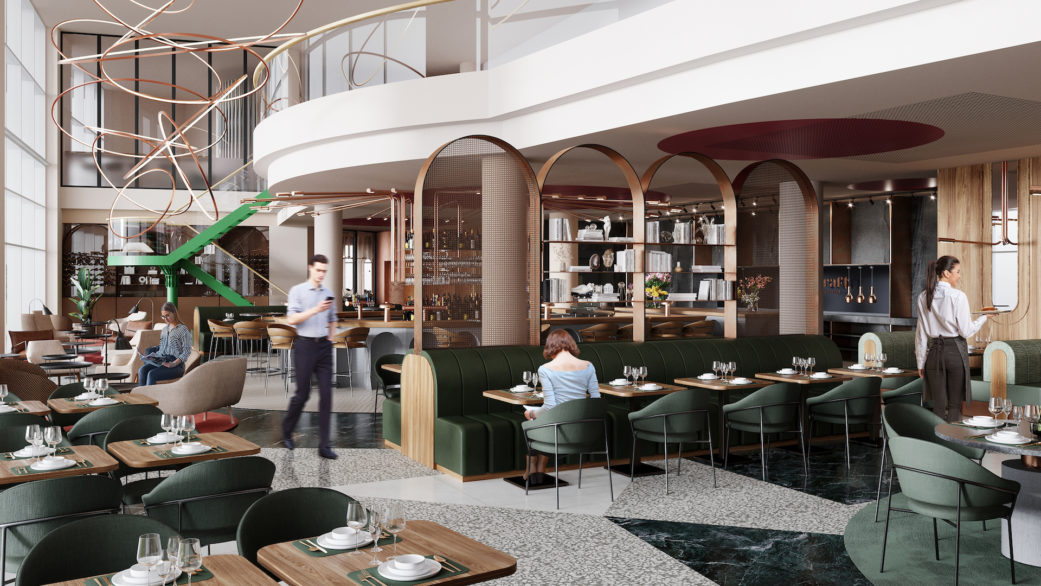 Final Crowne Plaza Brussels visuals
Here you can see the version validated by the hotel. In our humble opinion it is the most sophisticated and elegant design out of them all. We even integrated characters in most of these intermediate versions, a few examples of which you can see here. However, we decided to present you most of the renders without people because the space is already detailed enough. We felt that people might take some of the attention away from the design features. We really hope that this project will help the hotel breathe a new life into its brand!
But Crowne Plaza Brussels is far from the only project we helped WeWantMore present in 3D. Go and see this restaurant 3D rendering, this hotel 3D visualization, or this lounge 3D rendering project. All of them are interesting in some way, with many more on the way.
By the way, did you notice the color of the staircase? Like a little offbeat note, it grabs your attention, which was exactly the point of this renovation project.