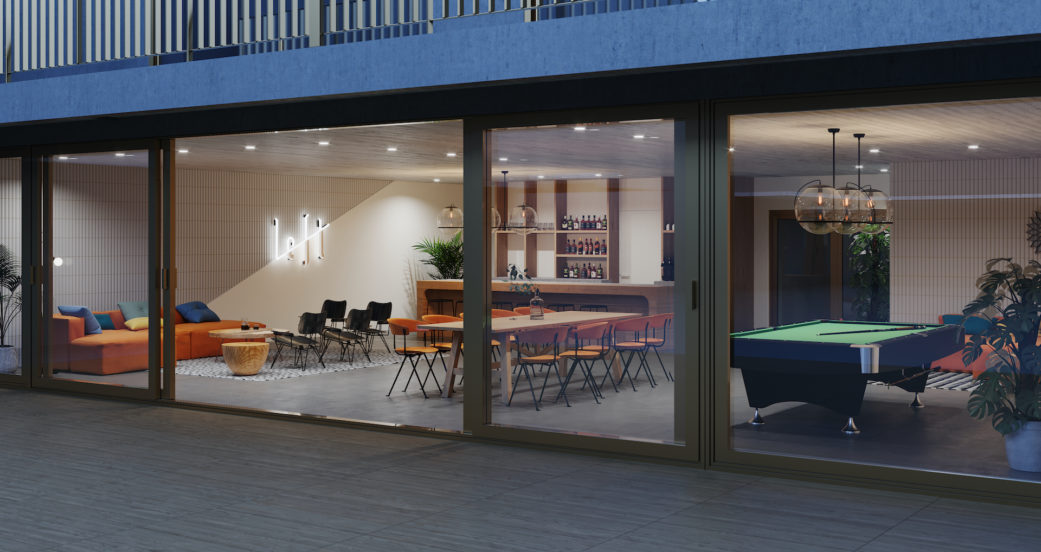 Communal lounge spaces
We visualized this lounge 3D rendering project for WeWantMore studio in a record timeframe. In just over three days we produced four 8K print ready high-quality images.
The project consists of two communal spaces in a new apartment building complex in Antwerp. One of them is a cafeteria with an integrated kitchen and the other is a lounge with a pool table and a bar.
The goal of this design is to create a social life in a residential area. This is accomplished by bringing the inhabitants of this complex together in these playful spaces.
Efficient 3D rendering
The main challenge of this project was not only to create a realistic scene but also to render it out in time. Since we always work with high polygon geometry and good quality textures it was not an easy task.
The only solution for rendering ultra HD shots like these in a short timeframe is by using a render farm. A render farm is a powerful online server that can process the 3D scene and calculate your renders for you. We also have access to huge professional 3D object libraries. Of course, whatever we do not find in libraries we custom model and texturize according to the specifications you provide us.
In fact, the more information on the lighting, furniture, and décor you give us straight away – the faster we can work. Do not worry if you have not figured out all the details quite yet. We can always split the project up in phases such as modeling, lighting, and texturing. This means that you can feed us the info at your own pace without holding up our process.