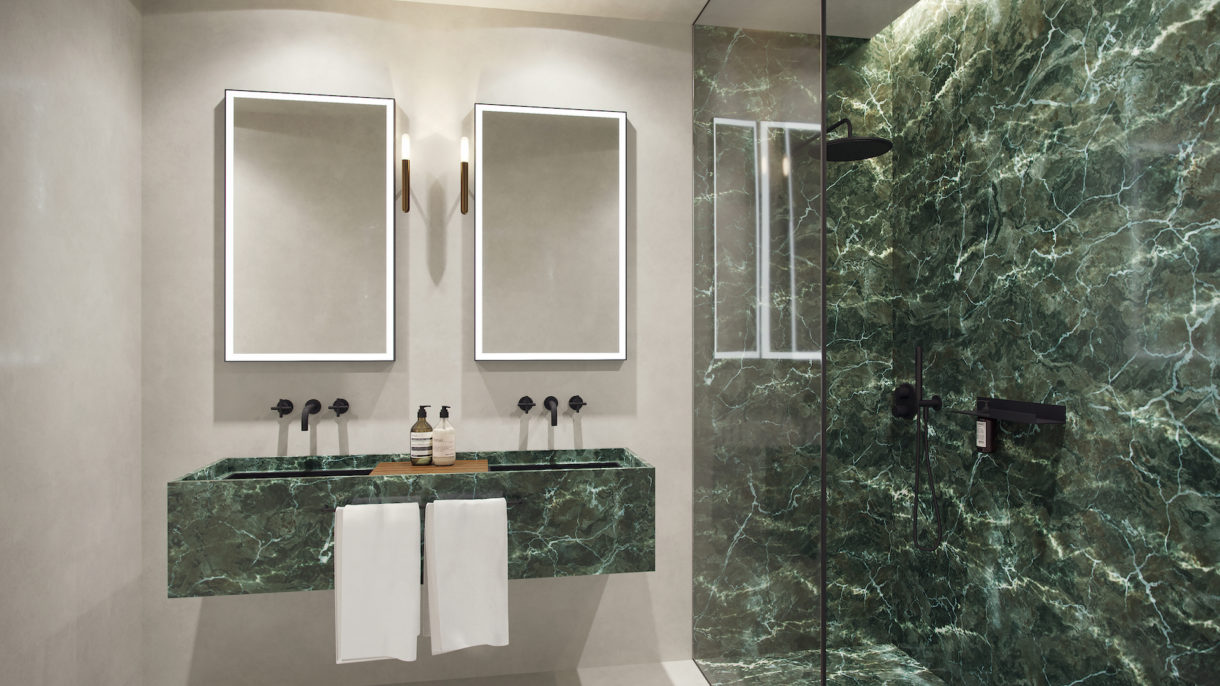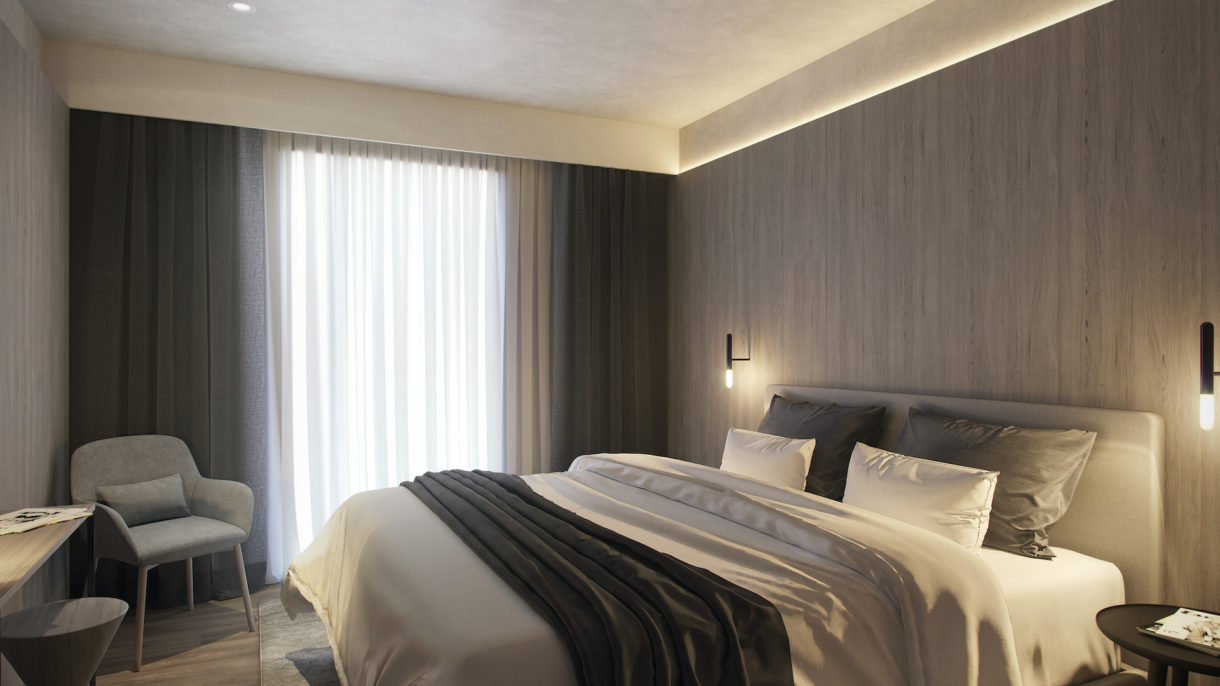 Hotel visualization project
We visualized this hotel by the name of Chateau de Vignée for our long term Belgian clients WeWantMore studio.
This hotel 3D visualization project consists of 7 zones: room, suite, bar, spa, restaurant, private dining and lounge. We visualized these zones in a total of 11 still and 4 panoramic views.
A deep green shade dominates the suite. In contrast to it is the dark marble, colorful artworks and the warm tones of the bed linen. On another hand the room visual is much more neutral and restrained. Natural earthy tones compose its color palette.
Soft lighting, simple materials and swimming pool water which reflects the exterior landscape define the relaxed atmosphere of the spa.
The bar with its rich and elegant materials is a great setting for the refined liqueurs on offer.
Lounge and private dining room
The cosiest space in this whole hotel 3D visualization assignment is by far the lounge. Thanks to its velvet sofas echoing the texture of fine wine its comfortable. Thanks to a starry sky of light fixtures on the ceiling its inviting.
Moreover, with the fireplace on you can really feel as if you are sitting by the campfire covered with fur blankets.
The private dining room has a more intimate feel to it. Monotone dark materials with people sitting in leather chairs around a circular wooden table enhance it. The only bright piece here is the carpet with exotic patterns on the floor.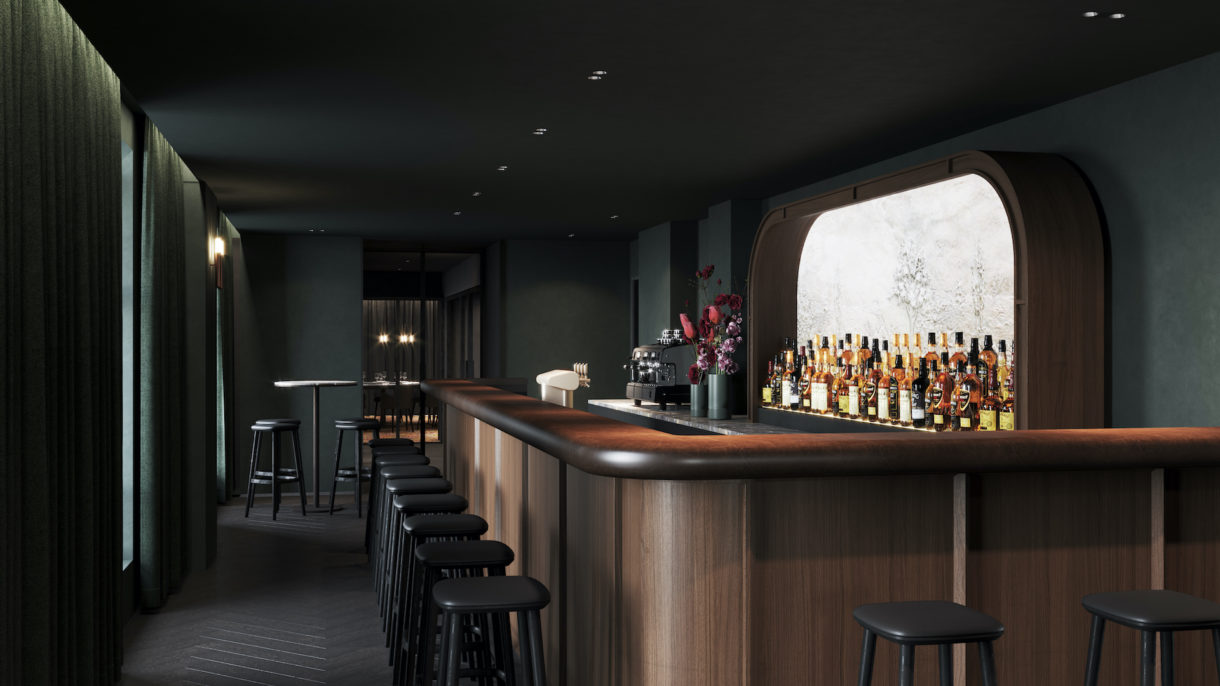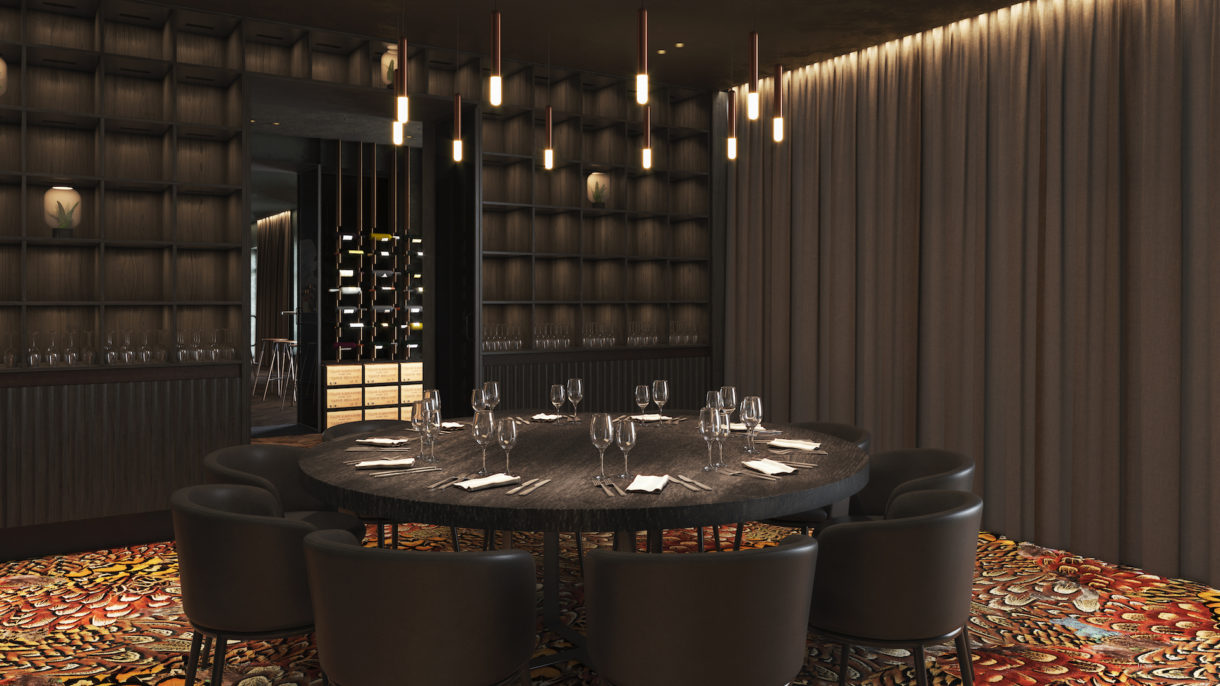 Restaurant 3D visualization
The restaurant is bright, spacious, and airy. Mostly, off-white colors dominate the scheme. The only contrasting elements are spotlight rails, shelving, and the central bar. In addition, it features several oversized flower bouquets on top of it.
We were glad to work on this elegant design by the creative studio WeWantMore and excited to see it precisely applied in this renovation project. Too see similar works feel free to check out projects like Crowne Plaza Brussels, L'Epouse du Boucher or these mountain chalet 3Ds. Otherwise check out this realistic 3D rendering project.
However, should you have your own hotel 3D rendering project to discuss feel free to discover our nofuss process and get in touch with us to see for yourself how we can assist you. We are positive that you will be satisfied with our collaboration!