Airport 3D renderings
For this airport restaurant 3D visualization project done for our partners SmartDesign Group we received two different spaces. Furthermore one of them is a seafood restaurant and the other a pancake house. The name of the first concept is Current Fish&Oyster while the other's name is the International House of Pancakes or IHOP.
Check out how we went about visualizing these two different concepts.
Current Fish&Oyster restaurant
While working on this airport restaurant 3D we loved its fresh, bright, and functional design. Located in the airport of Salt Lake City, US this restaurant gives you a feeling that you are already on the seaside.
Shiny colorful tiles resembling the scales of a fish with a circular window for an eye decorate a back wall. This wall separates the restaurant zone from the open kitchen. Also, fun seagull-shaped lighting fixtures above the tables further accentuate the beach vibe.
Since the target audience of seafood restaurants is mostly adults – we filled this space with people who might eat there.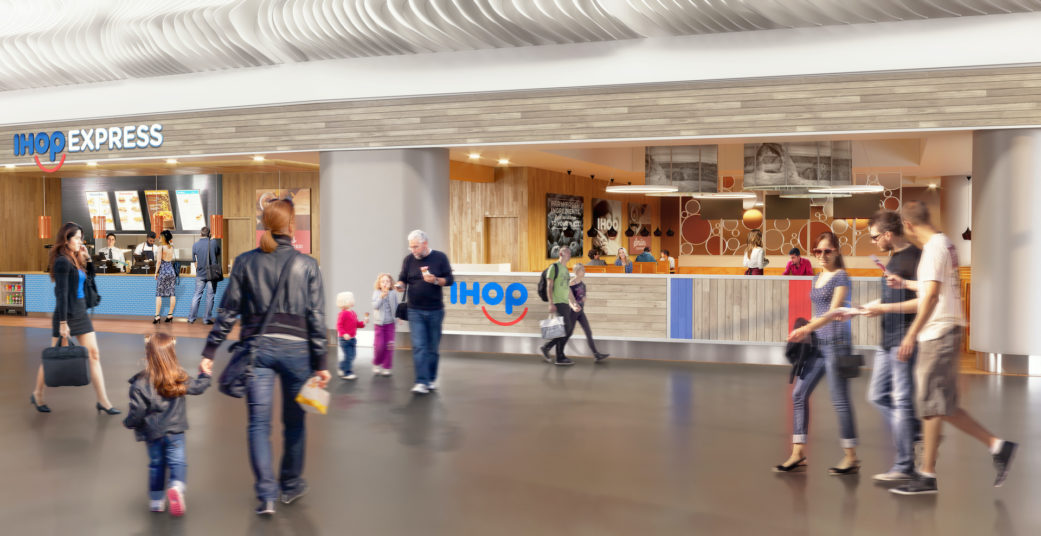 These people are male and female, young and old, laid-back, and bold, wearing suits, jeans, sweaters, and dresses. A couple of Asian businessmen are walking by in the corner of the main visual and probably discussing their travel plans.
As always, when working on airport restaurant 3D visuals it is important to show different people. Moreover, their activities should be believable. In an airport people are walking, carrying luggage, and obviously eating and drinking. Also, for airport restaurant 3D renders, better not forget to place some food and beverages on the tables!
IHOP airport spot
Current air traffic schedules may lead you to be in an airport at any time of day. Therefore you might end up being hungry at some point. When it happens to be in the morning, you might not always want classic airport fast food.
Luckily, there is a solution: IHOP. It is an multinational pancake house restaurant chain that specializes in breakfast foods. Now instead of the usual cheeseburgers and pizzas you can have a pancake with hot coffee.
To see some similar airport restaurant 3D visualization projects check out this beer bar 3D project or this airport interior rendering.