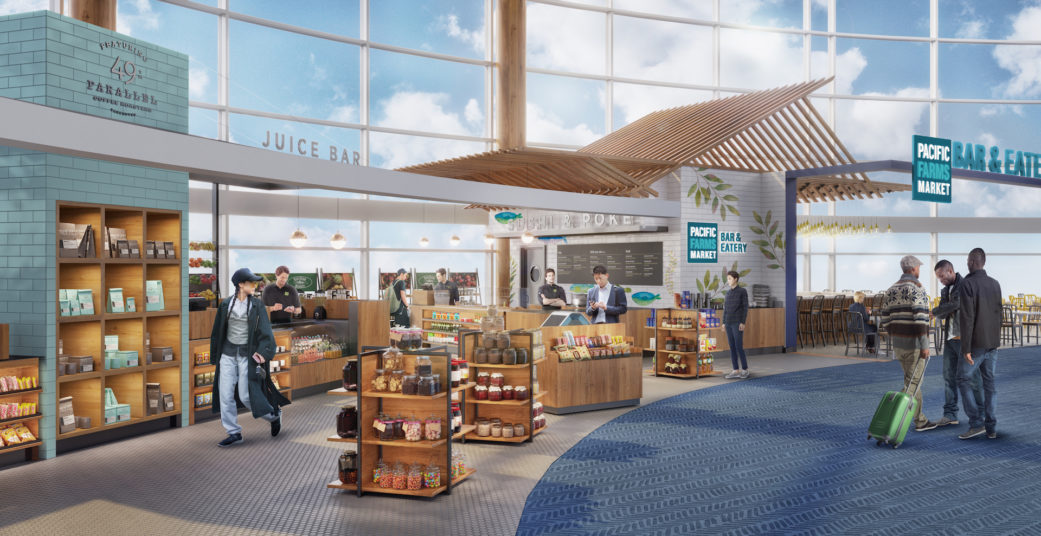 YVR airport interior
We completed this detailed airport interior rendering project for our Canadian clients SmartDesign Group. This redesign of the International terminal at Vancouver airport is called Pacific Farms Market.
In fact, the base for it is the wildly successful approach of Napa Farms Market in SFO. Moreover, the SF based company Tastes on the Fly developed this fresh concept.
This outlet at YVR delivers a walk-through market style food experience to international passengers. Passengers waiting for their planes can enjoy shopping and eating at this cool, light, and airy space.
Interior rendering atmosphere
As we already mentioned, when filling an airport interior rendering with characters it is important to consider several factors.
Firstly, these include a realistic representation of the audience demographics. You must keep in mind their age, sex, and ethnicity.
Secondly you must consider their outfits and accessories.
Lastly you must think about their activities. Their poses and positions must follow the logic of various activities that would take place in such a setting.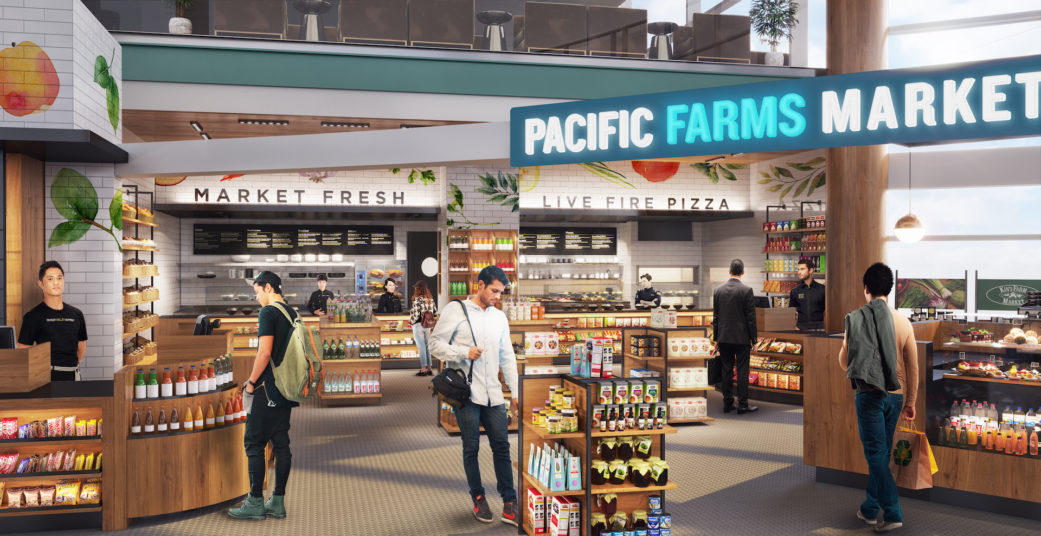 With this in mind, some of them are drinking beverages, others are reading magazines or newspapers. Some are texting loved ones or checking their plane's schedules on their mobile phones.
For airport interior renderings we usually choose a pre sunset time of day for its dramatic and warm lighting. However, here this is clearly not the case. Instead, we opted for a daytime lighting, thus reinforcing the open-air market atmosphere the client was going for.
Merchandise and details
It goes without saying that most of the merchandise in these visuals was custom-made following the client's instructions. But since we specialize in commercial interior design 3D rendering, we are used to such requests.
So, with our combined experience we are great at filling store shelves. With nofuss, you will not need to worry that the merch in your renders will not fit your overall design.
You can see some other airport interiors in these beer bar 3D and airport restaurant 3D visualization projects.
Otherwise, check our this realistic 3D rendering project.